Last Tuesday I went with my darling friend to see Hidden Figures.
My goodness, I rarely get misty-eyed at the movies, I certainly teared up at this movie.
For those of you who don't know, it's the film adaptation of
the novel
by Margot Lee Shetterly, of the true story of the Black women who did the maths for the Mercury 7 flights, most importantly, John Glenn's flight to be the first American in space.
Being a black woman, I got an early exposure to the horrors of racism at an early age. My family made sure I knew my history, no matter how dark. Segregation; separate water fountains, bathrooms, seats on the bus, I learned them the same time I learned my alphabet and cursive handwriting.
Not only does this movie showcase that- especially the separate bathrooms. The bathrooms the black women were allowed to use were over half a mile away from the main center at Langley!- It showcases a plethora of beautiful fashions.
I decided to channel that in my outfit for the evening.
Outfit details:
Early 1960's Dress- Buffalo Exchange
1940's Hat- Gift from Kait
Spider Brooch- Gift from
Frances
Shoes- PayLess
Lipstick- Besame's
Dusty Rose
Sadly, the good camera's battery died. Thank goodness for this technological age we live in.
I saw the movie with my dear friend Noela of
Face For Radio Fashion
(brand new blogger, give her a happy welcome!), here is the delightful outfit she wore!
Afterward I got a milkshake, and Noela got the cutest candid of me, I want to frame it.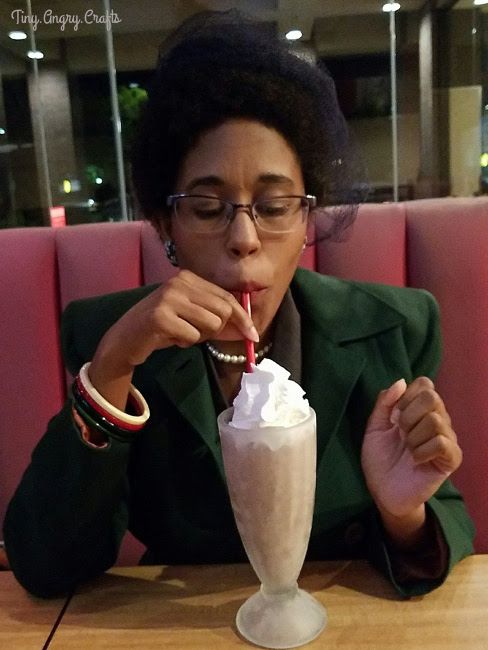 I honestly want to see this a couple more times, it's so so good.
Have you seen Hidden Figures? (If you haven't see it ASAP!)
Did you have any idea of these brilliant women prior to the film?