Hey, I've actually been sewing things in my silence.
Last December, I finally redeemed my pattern for backing Wearing History's Kickstarter campaign. After humming and hawing, I finally picked the Smooth Sailing Sports Togs pattern, and printed it from my computer. I pieced it together, and shoved it in a manila envelope for a month.
I bought fabric in January, with color advice from my sweet friend Tony.
In May I made a mockup in an evening after studying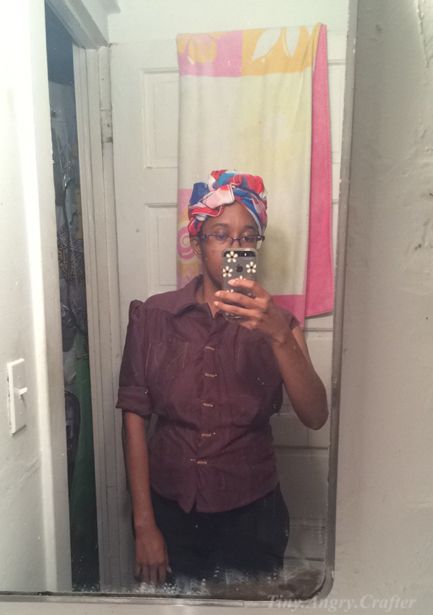 The next day, I cut the fashion fabric.
I had read the pattern extensively while doing the mockup, and again as I made the final blouse, so it was smooth sailing as I worked on it. (hahaha, I know I'm terrible)
After I bothered my mom about buttons, I threw it in a bag, then went thrifting with a friend, and was asked where I got such a lovely blouse. They were surprised to hear I made it myself.



I had such a blast sewing this blouse, I am ready to make more and more.
Sewing Details
Fabric: Quilting Cotton from JoAnns
Pattern:
Wearing History Smooth Sailing Togs Blouse
Notions: Plastic buttons, self-made bias tape
How historically accurate is it?
For a blouse inspired by a 1930's pattern, I'd say it was
accurately
sewn. Imagine the fabric was feed sack!
Any tricky parts to the pattern? None at all!
Did you change anything?
Not a thing! I didn't even have to shorten it!
Time to complete:
About 2 weeks. School was still in session.
First worn:
May 31st, 2015
Total cost: Uhhh I wanna say about 35 maybe total? I'm terrible about keeping track of this.
Notes: I had fun making this blouse!!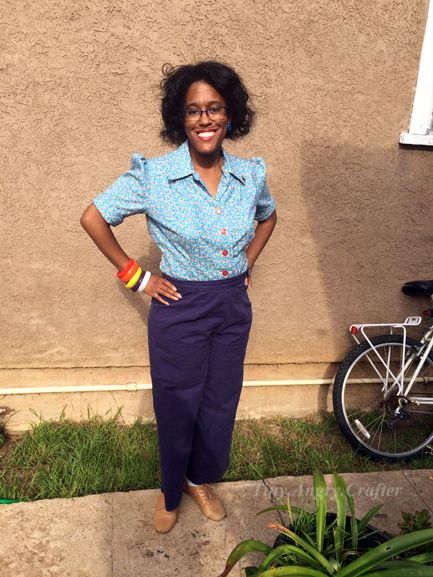 This blouse is quickly becoming my 'go to' blouse. It's cozy, fits wonderfully with skirts and pants, and was such a satisfying thing to sew. It's got a lovely billowy effect to it, which is nice to move in. As the pattern was pretty much made for swing dancing in!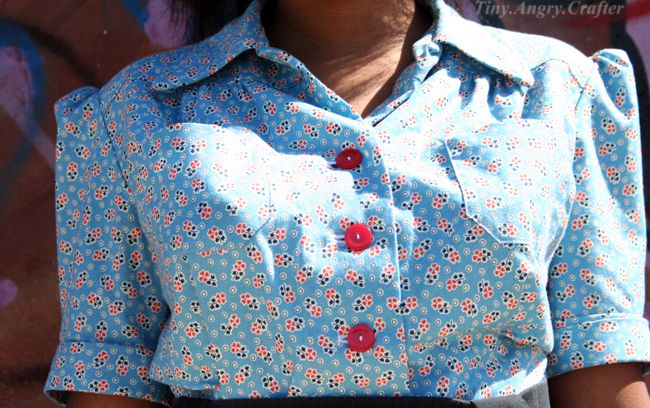 There are some close up photos, and here are some detail shots
There is a LOT of catch stitch in this blouse, it keeps everything nice and close together.



Mom decided on these buttons for me, and I love how they look against the blue!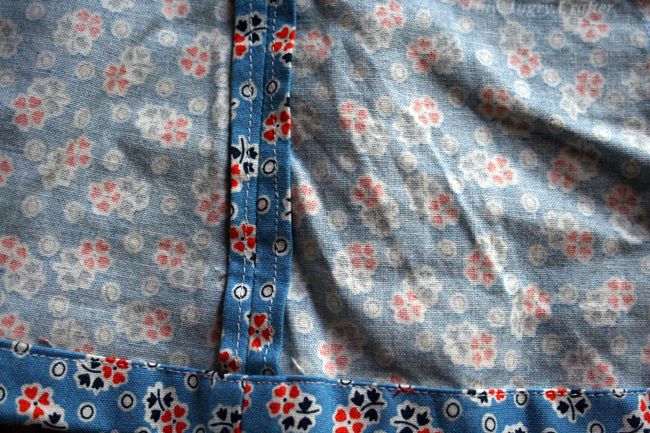 Clean finished insides is one thing I love about sewing my own repro-vintage clothing.



And the top stitching of the yoke and the collar was one of my favorite bits. It's kinda satisfying.

So there you have it. Will I buy another Wearing History pattern with actual cash money? Hell yeah I will! I've been eyeing the playsuit pattern for AGES, so I might get that next. Oh and one of the hat patterns! Oh Oh! And some of the gorgeous fabric!

Have any of you sewn anything from Wearing History? Do any of you have any of her gorgeous garments which are made right here in the USA?