Or last minute Xmas gifts. Same thing.
I recently snagged a remote for my camera as a 'yay you survived midterms!' gift to myself. It is well past finals, and I'm finally using it.
This is the Dapper Day dress, which I wore again for a business class presentation earlier this month. I figured it needed a proper debut.
I'm slowly getting used to the remote and trying to pose naturally. It's gonna take me a bit, but this is very useful for when nobody is home and I want/need photos.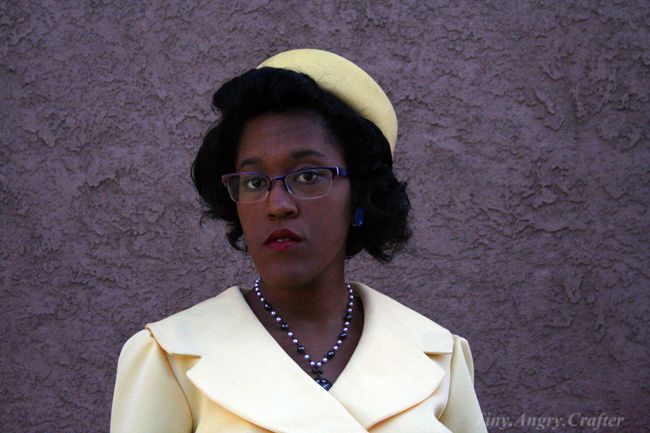 I was elated to find the hat at the Buffalo Exchange anniversary, it's a damn near perfect match to the dress, just a teensy shade lighter.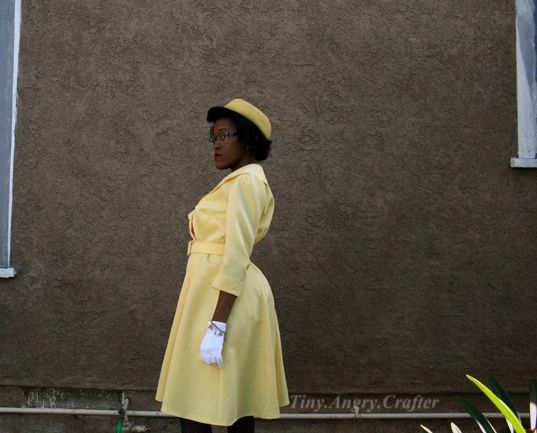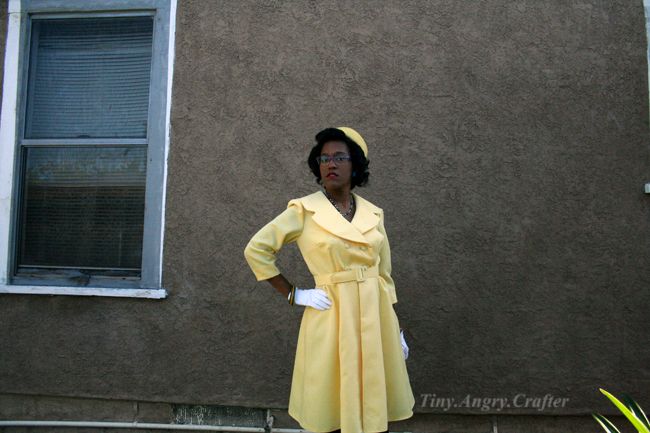 I am really fond of the fit of the dress. The material is a pain and a half, but it really works for the dre
ss. The pattern was very straightforward, and I was able to finish this dress in a couple of days. One of my favorite details is the three darts on the sleeve.
Fabric: Pale yellow synthetic. Gift from a friend.
Pattern:
Advance 9925. View 1
Notions:
Covered buttons, self covered belt
How historically accurate is it?
Pretty accurate.
Any tricky parts to the pattern?
Eh, I got a bit better with bound-buttonholes on this. Figuring how the
notches
on the collar were going to go confused me, but after I pressed it, it all made sense.
Did you change anything?
According to notes, I put 'shortened pattern by 6 inches'. I'm going to assume 3 for the bodice, and 3 in the skirt.
Time to complete:
February 14, 2014-February 21, 2014
First worn:
Dapper Day at Disneyland
Total cost:
Pattern was $12 from the Atomic Hideaway
Zipper was $2
Buttons were probably $3
Belt kit was $5
so $22 in total
Notes:
If I were to make it in a synthetic similar, I'm totally using a lining. But next time, I'll make little belt carriers.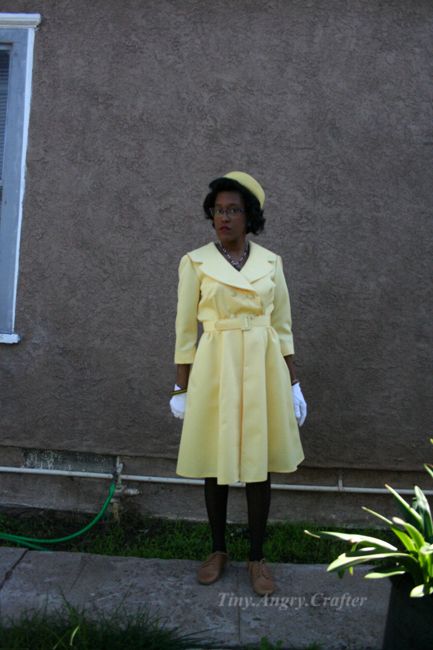 Outfit Details:

Dress- Made by me
Hat- Buffalo Exchange
SHIELD necklace- Petite Royale
Earrings- SD vintage flea market
Bakelite bangles- various
Disneyland charm bracelet- eBay
Gloves- Melrose flea market
Stockings- What Katie Did
Shoes- Ross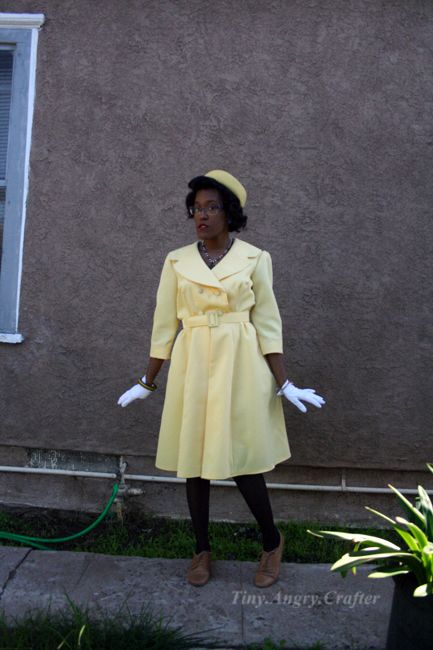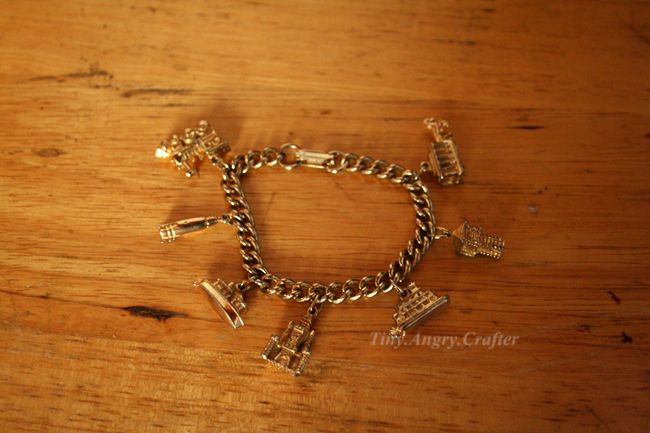 I love this Disneyland charm bracelet. I very rarely see them with the rocket from Tomorrowland on them!! (As I wrote this post, I did a quick google search, and they park did indeed offer them for purchase via a catalogue! On the 4th photo down,
you see my bracelet
!)
I had such an interesting confidence boost as I ran my errands this morning. People moved for me, and insisted they press the trolley open for me. I felt like a little ray of sunshine walking down the street on this bright winters day. Though as I walked down the Gaslamp Quarter for exercise, and to get the other trolley, I heard a bunch of interesting things shouted from cars, and from bars. I ignored a lot of it, only smiling when I got compliments, and older ladies said they liked my hat. My bank teller said I looked 'Very Jackie O!' so that brightened the rest of the afternoon.
Have any of you dressed up and ran your errands, were the people serving you surprised?
PS-
I talked it over with a friend, who suggested I turn the Pajama Party giveaway, to a giveaway to
all
blog readers. Now to figure out those widgets for giveaways, and to fix some links.