Earlier in the year, I told myself to create more clothes for myself, but I've been failing in the documenting and photographing department for it! I mean, I just have the
few
I showcased for the group.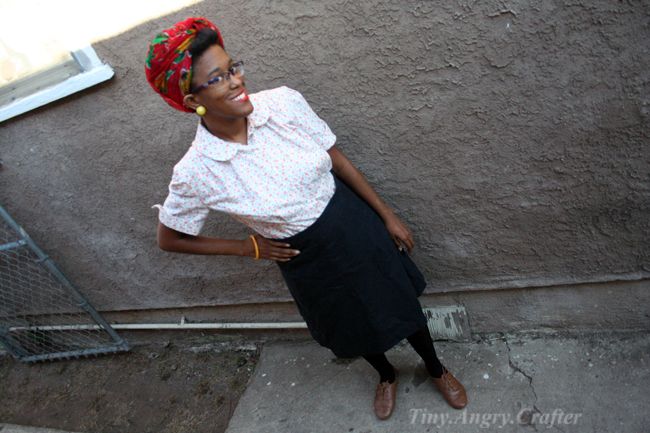 I made this ensemble for Sew For Victory in the spring, and I have to say, it's one of my favorites, so far. And I'm happy to be showing off my very first bakelite in it. Yay.
I did double duty with the blouse, I
received it
from Marie for her
Vintage Pledge
kick off, and sewed it up for that as well.

As I mentioned in the post, I used the vintage Simplicity pattern for the skirt, which seems to be well loved by a lot of other bloggers. I had to shorten it quiet a bit, thanks to being so short, but it works very well!


My sister once again had a good time photographing me, and I'm thankful for her being savvy with a camera. She had me laughing a lot, and she took a lot of silly pictures of me, which is very fun.
At this point, she mentioned 'You look like the lady in the posters…um, oh man, 'WE CAN DO IT!'? –Thinks for 3 seconds, gets photo taken, then busts up laughing- "Rosie the Riveter?" 'YES! GO POSE!'


So of course, she had to get me to tap into my inner Riveter.


I think I did a good job, and so did she.
So now, I'm going to do a couple of new things. First, talking about the sewing details

Sewing details

Blouse

Pattern- Vintage Simplicity 2382
Fabric- floral cotton from JoAnns
Notions- Four buttons, and hand made shoulder-pads
Any changes to original?- I shortened the bodice by 2 inches, and sewed my own shoulder pads. Other than that, it's pretty accurate.

Skirt

Pattern- Simplicity 3688
Fabric- 'Caviar' bottomweight from JoAnns
Notions- zipper, and five buttons (four in, one out)
Any changes to original?- I made removable straps to make it a bit more cute. And I shortened the length by 3 inches, and widened the waistband by 2 inches.


Outfit details

Scarf- Melrose Flea Market
Earrings- VaVoomVintage's instagram sale
Blouse- Made by me
Skirt- Made by me
Bangle- Antique mall
Socks- Target
Shoes- Ross
Thank you all for looking!

And I have an exciting sew along planned for next week, so stay tuned for that! I'm writing up some posts in advance, as I know November will be a busy month for me. I hope you all like it, as I'm excited to be working on it.
Labels: 2014 wardrobe sewing, FO, sewing, vintage, vintage patterns, Vintage Pledge, what I wore