So, in an attempt to get myself to post more, sew a bit more, and to interact better with you lovely readers, I began to mull about with a sew along. I looked to my sewing list, and noted pajamas were on there, and the light bulb went off!
Enter The Vintage Pajama Party by Tiny Angry Crafts!
I figured that every person who sews would like their own personalized pajamas, so why not make it more fun?
This isn't a competitive sew along, but a great way to challenge yourself. Sew up your favorite vintage style, meet deadlines, and make some friends along the way!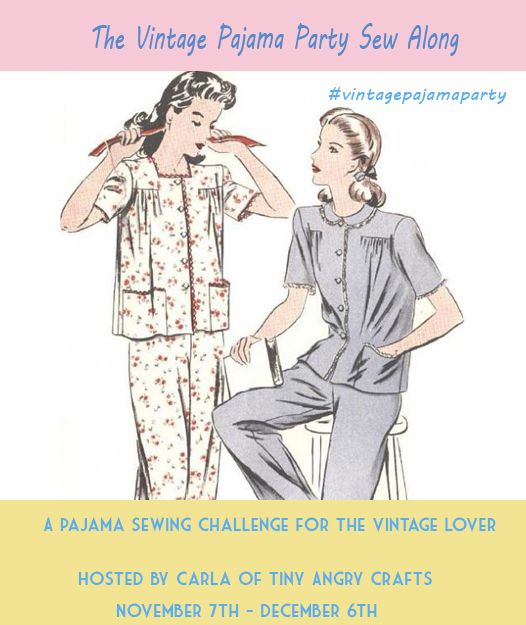 Any decade from the 1920's to the 1970's is good to go, and you're welcome to use whatever fabric you want! Make something cozy with flannel to keep warm in the winter, make something silky and cozy to slink about the boudoir in, whatever you want!
Now this sew along is a pick your own pattern, and sew at your own pace kind. You can use a an authentic vintage pattern, a vintage repro pattern, make your own if you're clever enough, just anything that'll invoke the era you're looking to work from.
Today is the kickoff, so you have till the 7th of November to have your supplies and start sewing. But if you show up mid November, and want to join, feel free! Just have your finished garment up on the Flickr group on the 6th of December at the end of the day.
You are more than encouraged to join me on the
Flickr group
where there will be discussions, and sharing of your inspirations! Please use the hashtag
#vintagepajamaparty
on Twitter and Instagram to check in with everyone who's sewing along! I will be posting up inspiration and my own progresses on the blog, so if you're not following along, feel free to start now!
So as a recap:
Join the Flickr group for the Vintage Pajama Party, and introduce yourself!
Pick a pattern that will fit with the decade you'd want to sew from.
Pick some nice cozy fabric you'll want to sleep or lounge in.
Gather up all your supplies, and be ready to start sewing on November 7th!
Have the finished pajamas photographed and uploaded to the group by end of the day on December 6th.
If you have an outfit up and on the group in the time allotted, you have the chance to win some prizes at the end of the sew along!
Grab a button, and let your friends know!
300px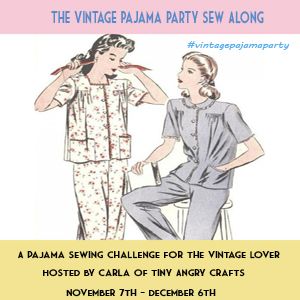 250px
Be sure to join me, and have some fun!

If you have any questions, feel free to to ask in the comments below, or email me!